It's just before 1 p.m. on the East Coast as Jerri Harrington hits the play button on a video about Jesus.
Roughly 7,500 miles away, it's almost 8 p.m. in the capital of Kenya as six African girls watch the film, part of the "Story of Redemption" series.
The teacher, a longtime member of the Fairfax Church of Christ in this Washington, D.C., suburb, and the students, served by the Made in the Streets ministry in Nairobi, connect each Thursday via Zoom videoconferencing.
"It's not about bringing people to a building anymore," Harrington said of sharing the gospel. "The church is going into the world, which is what Jesus told us to do."
Fairfax County, where Harrington's home congregation is located, ranks as Virginia's most diverse area, the county's economic development authority notes. 
Three out of 10 Fairfax County residents were born outside the United States, according to the U.S. Census Bureau.
Jerri Harrington, Jan Johnson and Juanita Wheeler, members of the Fairfax Church of Christ in Virginia, use the internet to teach Bible students around the world. Photo by Bobby Ross Jr.
For years, Fairfax church members — including older Christians such as Harrington, Jan Johnson and Juanita Wheeler — have connected in person with immigrants through FriendSpeak. 
That program, the domestic version of the popular international ministry Let's Start Talking, helps foreign-born neighbors improve their English skills by reading the Bible.
But when the COVID-19 pandemic lockdown came in the spring of 2020, face-to-face studies with friends from China, El Salvador, Syria and elsewhere became impossible.
James Nored, a former Fairfax preacher whose ministry the church helps support, directs the Next Generation for Christ outreach effort and produced the "Story of Redemption" films. 
---
The Connections podcast: real life, real faith
---
Nored encouraged Harrington, Johnson and Wheeler — among others — to take advantage of technological means to reach faith seekers during the pandemic.
Even before COVID-19, Nored urged Harrington to take her love for Jesus to the internet.
"James made it as easy as he could," said Harrington, who has attended the Fairfax church for 32 years. "He met with me 25 times to try to teach me Zoom, and I did Zoom lessons with him. But for some reason, it clicked during the pandemic. I'm sure it was God."
Through the online studies, Harrington has developed a bond with Jane Njeri, the Kenyan girls' guardian. Two other Christian women, Mary Wilmon and Selam Teke, help Harrington mentor the girls. 
Like her peers, Johnson, a military wife whose family first came to the Fairfax church in 1978, was skeptical of her ability to evangelize online.
Via Zoom, Mary Wilmon and Jerri Harrington conduct a Bible study with girls in Kenya. Photo provided by Jerri Harrington.
"I told Jerri and James that I thought the 'Story of Redemption' was wonderful, but I'd never be able to do Zoom," she said in a joint interview with Harrington and Wheeler at the Fairfax church. "I mean, didn't they understand that I was in my 70s?"
However, a fellow Fairfax member, Annette Chambers, volunteered to help. 
"Annette said, 'I've taught teenagers for years. I can teach you,'" Johnson said. "And she did."
To aid the process, Johnson bought a copy of "Zoom for Dummies."
Now, she can't imagine not spending her free time online working to save souls.
"I think every retired Christian should be on Zoom with the videos sharing Christ," Johnson said, "because the videos speak for you. I teach one-on-one with folks. Some people who are very talented, like Juanita, can teach large groups."
Before the pandemic, Wheeler, a Fairfax member since 1999, developed relationships with Bible students in person. She and her husband, Steve, don't have children of their own, but they became surrogate parents to an Iranian refugee family. 
"They have two children who we consider as our grandchildren," Juanita Wheeler said. "They call us Grandpa and Grandma. We're their family here because they cannot go back to Iran."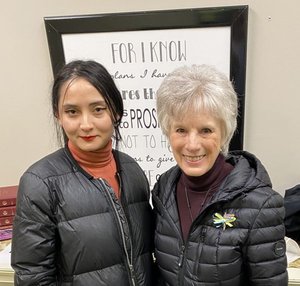 Andréa Trujillo and Juanita Wheeler at the Fairfax Church of Christ in Virginia. Photo by Bobby Ross Jr.
Andréa Trujillo, a 23-year-old immigrant from Colombia, decided to be baptized after studying with Wheeler. She now attends the Fairfax church.
"She was so homesick when I first met her," said Wheeler, who made sure to hug Trujillo after a recent Sunday assembly. "She was looking to meet anybody she could so she could connect with them. And the thing that really makes these programs work is the relationship that you build with the people."
But that relationship doesn't have to be in person, Wheeler said.
The pandemic taught her that.
"The connection can be via Zoom over the 'Story of Redemption' in a foreign country," she said.
Wheeler teaches teenage boys in Kenya.
"They're fantastic," she said. "These kids ask the most amazing, spiritual, deep questions. I'm just amazed at where their thoughts and their questions come from."
Nored said he's pleased to see the "Story of Redemption" films making a difference.
Moreover, he said, "Having older women sharing Christ with teenage kids taken off the streets in Kenya is pretty cool. But prayer and just their hearts for sharing Christ have been a big part of this as well."
That's not to say that the online interactions don't have occasional kinks. Not infrequently, internet and electrical problems on the African side delay or postpone studies, the women said.
"You've got to have a lot of patience," Harrington said, "and be willing to kind of roll with the punches."
But if these three, all senior Christians, can do it, anybody can. 
They want to make that clear.
"We're definitely the technologically challenged," Johnson said with a laugh.
Nored sees it differently.
"They all have wonderful stories of God at work through this," he said. "They learned new skills and technology, all so they could better share the Gospel. … To me, these women are inspiring examples for us all."
This piece is republished from The Christian Chronicle. Bobby Ross Jr. is a columnist for ReligionUnplugged.com and editor-in-chief of the Chronicle. A former religion writer for The Associated Press and The Oklahoman, Ross has reported from all 50 states and 15 nations. He has covered religion since 1999.